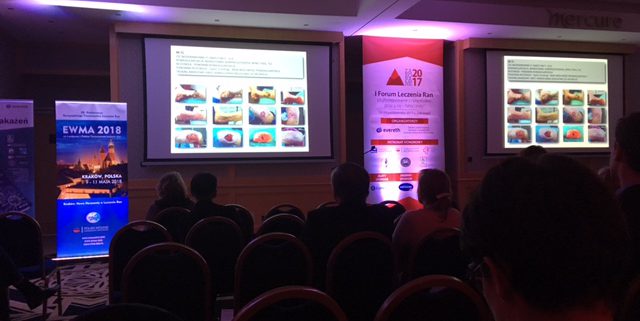 1st Wound Treatment Forum (WTF 2017)
12-14.10.2017, Zakopane
On 12-14th  of October 2017 was held in Zakopane- Wound Healing Forum under the motto "Dealing with difficult wound healing in – Facts and Myths" under the patronage of the Polish Wound Management Association. The conference was attended by experts in wound treatment from all over the Poland. The meeting was an opportunity to present the latest solutions by medical companies from around the world.
Hexanova presented the latest therapeutic solutions, i.e. innovative hemoglobin therapy, modern wound lavaseptic based on hypochlorites as well new patented TIAB silver molecule used in control of infections.
During the conference, the first time was mentioned about new strategy for wound healing M.O.I.S.T as an extension of T.I.M.E.
Chairman of the Scientific Council
Professor Aleksander Sieroń MD, Ph.D, Doctor honoris causa 
Scientific Committee
Prof. Tomasz Banasiewicz MD, Ph.D
Prof. Marzenna Bartoszewicz MD, Ph.D
Anna Chrapusta MD
Prof. Marcin Gabriel MD, Ph.D
Prof. Arkadiusz Jawień MD, Ph.D
Jan Karwowski MD, BSc.
Prof. Marek Kawecki MD, Ph.D
Mariusz Kózka MD
Andrzej Krajewski MD
Prof. Grzegorz Madecki MD, Ph.D
Beata Mrozikiewicz-Rakowska MD
Prof. Zbigniew Rybak MD, Ph.D
Prof. Aleksander Sieroń MD, Ph.D
Maciej Sopata MD, Ph.D
Prof. Walerian Staszkiewicz MD, Ph.D
Prof. Krzysztof Strojek MD, Ph.D
Prof. Jerzy Strużyna MD, Ph.D
Prof. Maria T. Szewczyk MD, Ph.D
Prof. Tomasz Urbanek MD, Ph.D
https://hexanova.pl/wp-content/uploads/2019/06/1st-Wound-Treatment-Forum_WTF-2017_2.jpg
480
640
second
https://hexanova.pl/wp-content/uploads/2019/08/hexanova.jpg
second
2019-06-13 11:00:12
2019-12-09 14:18:16
1st Wound Treatment Forum (WTF 2017)
12-14.10.2017, Zakopane