What is HEXAGYN® DUO?
What is HEXAGYN® DUO?
HEXAGYN® DUO are ovules of double potency that:
regenerate the vaginal mucosa,
prevent vaginal dryness caused by inflammations and infections,
rebuild the normal vaginal microflora,
restore the physiological environment of vagina,
moisturize and prevent dryness of intimate area,
reduce the inflammation and infection of vagina.
Regular use of ovules HEXAGYN® DUO can maintain the natural protection of vagina and accelerate the reconstruction of normal vaginal microflora (Lactobacillus). The size and shape of our globules have been developed according to the anatomy of women, so their use is convenient and comfortable.
HEXAGYN® DUO ovules are recommended for prophylaxis as well as a supplement during the treatment of infections and inflammatory conditions.
The package contains 10 intravaginal globules, that do not require storage in a refrigerator.
Ovules contain no artificial preservatives or hormones, they do not stain underwear!
CE patented medical device
Usage of HEXAGYN® DUO ovules
Effect of the components of vaginal globules HEXAGYN® DUO: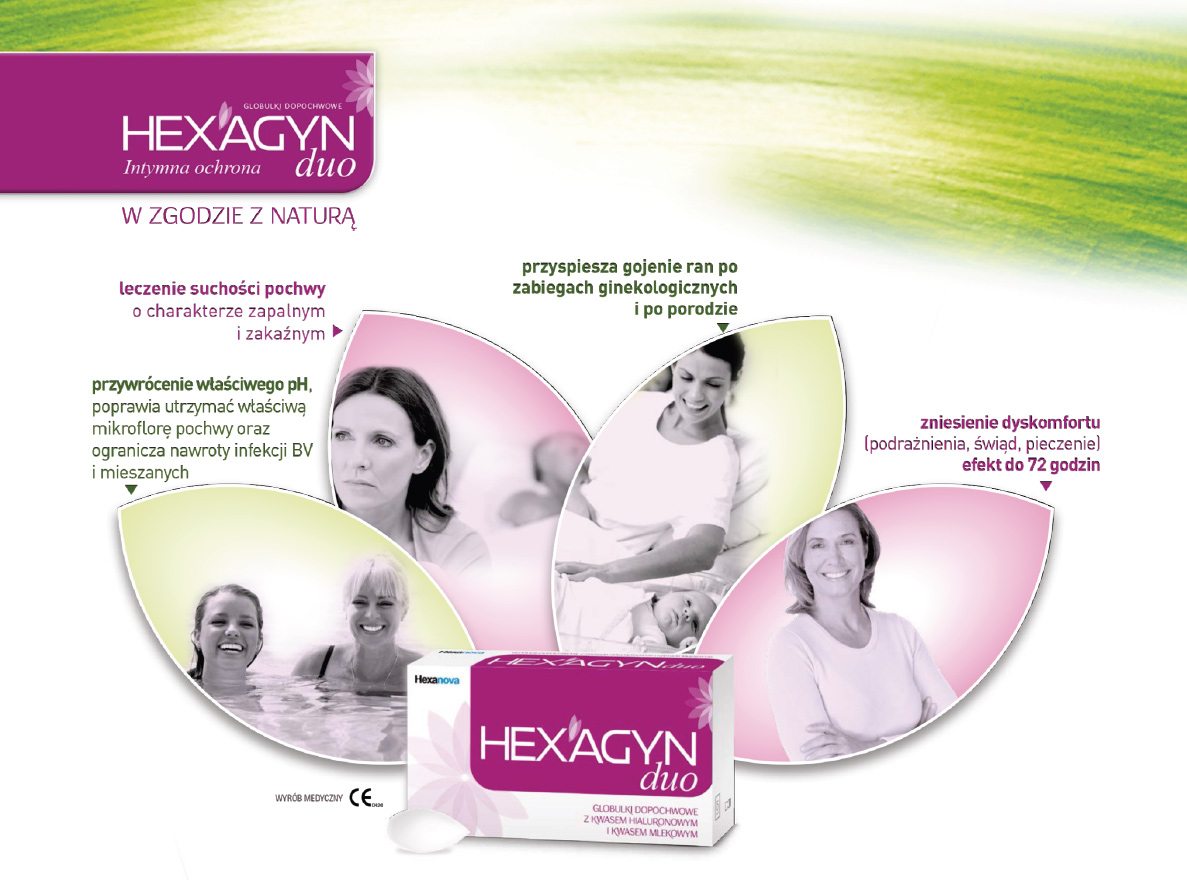 Ingredients in HEXAGYN® DUO globule interoperate so the therapeutic effect is perceived very quickly.
Hyaluronic acid sodium salt at 10 mg / globule has the effect of hydrating and lubricating vaginal dryness. It supports and accelerates the process of tissue regeneration, moisturizes and firms the vaginal mucosa.

Lactic acid helps to immediately correct the pH factor to 4.4, which reduces the risk of bacterial infections in intimate surroundings.

Polycarbophil – normalizes and maintains the acidic vaginal pH to 72 hours. It moisturizes vagina for a long time, helps with getting rid of discomfort in intimate surroundings and limits the development of vaginal infections.
Dosage of HEXAGYN® DUO ovules
Dosage of HEXAGYN® DUO ovules:
Basic therapy: 1 globule a night for 5-7 consecutive days after the end of the menstrual cycle, or as recommended by your doctor.
Adjunctive therapy or prevention: 1 globule a night every 3 days to achieve sustainable improvement, or as recommended by your doctor.
How to apply vaginal globule HEXAGYN® DUO?
How to apply vaginal globule HEXAGYN® DUO?
Wash your hands thoroughly.
Wash the vaginal area throughly.
Open the package and remove one globule from the blister.
Gently insert globule deep in the vagina, preferably in a supine position to prevent unintentional ejecting of the globule.
Important informations
Important informations
During pregnancy, lactation and with children globules should be used only after consulting your doctor.
Do not use together with other drugs administered vaginally.
Do not use in case of changes and wounds in vagina.
Do not use during menstruation.
Immediately after application of globules do not make sexual intercourse.
Do not exceed suggested dosage without previous consultation with your doctor.
Keep out of the sight and reach of children.
Do not use in case of hypersensitivity to any component of the product.
The use – especially long – may lead to hypersensitivity reactions. If this happens, stop treatment and consult your doctor who will advice the appropriate treatment. It is important to tell your doctor or pharmacist about any side effects not mentioned in the leaflet.
CE patented medical device.
Check us out on the web pharmacy: